Apartment 26 at The Atrium is a beautiful executive apartment which is a perfect place to rest, retreat and explore from. The apartment is set in Milton Keynes in the Buckinghamshire region, with The Centre MK and HM Courts & Tribunals Service nearby.
The Central Milton Keynes shopping centre is minutes away; a regional shopping destination with over 190 stores, cafes and restaurants all under one roof. It also features over 200 stalls offering the opportunity to pick up a bargain. Milton Keynes bowl is also close by (5km) so there are vast opportunities to go exploring. 
When you enter the property you will immediately feel secure and at ease as our accommodation provides a position of contentment and security.
Our Best Stay Promise To You;
Great Communication - Quick, friendly, adaptable multi-channel.

Personal space and professional service - The team is there to support your stay in a fun and professional way.

Specifically designed eco-conscious decor and accommodation - For a sense of calm and freedom; a great place to retreat too, recharge and explore in the morning.

Great night's sleep - Using luxury organic spa products designed to improve sleep and invigorate the mind and body, you will have a great night's sleep.

Local knowledge and recommendations - Promoter of local produce, businesses and lifestyle to get a unique local experience.
The living, dining space and kitchenette are integrated giving a cosy feel to the apartment. There are comfortable spaces to dine, chill and unwind in. We incorporated natural tones within our decor to give a sense of well being and seclusion, and also allowing you to feel safe and secure whilst staying with us.
Each kitchen features a dishwasher, modern appliances, coffee machine and washing machine. Along with the stove, oven and kettle. The modern living area is perfect for unwinding and catching up on your favourite shows as the property features a large flat screen smart TV, Netflix and unlimited Wifi.
The property features X1 double bedroom with an extra large king size double bed (which can be made twin). There is a quiet and secluded high end shower room,  perfect to relax and soothe the mind and body.  Personal details are also added to the apartment to contribute to your good night's sleep.
Pets are also allowed at an additional charge.
There is dedicated parking directly outside the property for X2 - X3 cars. The nearest airport is Luton Airport (41km) and the property offers a paid airport shuttle service.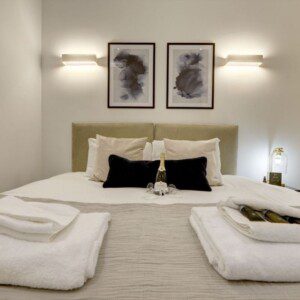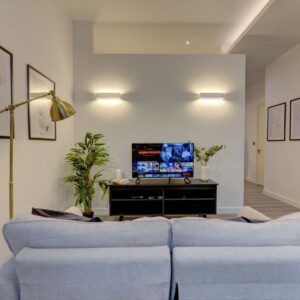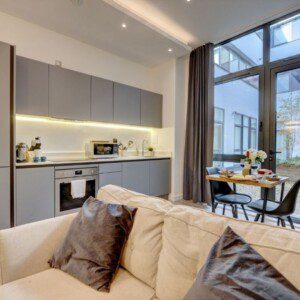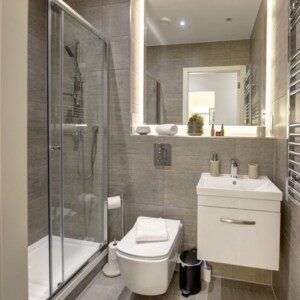 As mentioned in our 'Best Stay Promise To You', one of our main aims is ensuring you feel relaxed and at ease during your stay. We want to assist you in doing so by leaving some wellness products for you to try. Millies Organics are designed to help ease your mind allowing your body to sleep peacefully throughout the night. Nothing beats a good night's sleep and we know just how to give you that. After your stay, you'll be in with a chance to win a hamper by Millies Organics filled with amazing products worth up to £104. All you need to do is leave us a review;
https://www.trustindex.io/reviews/booksilva.com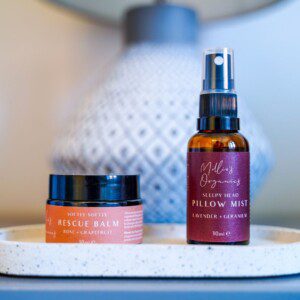 Located close to the centre of Milton Keynes, you won't go a day bored. Explore local businesses such as bars, restaurants and cafes to indulge in a sweet treat. We've listed a few favourites to choose from.
The Blacksmiths Arms
1 Downs Barn Blvd, Milton Keynes, MK14 7QG

0.8 mile from Silva 26

Open Monday - Thursday 3:00pm - 11:00pm Friday 2:00pm - 12:00am Saturday 12:00pm - 12:00am Sunday 12:00pm - 11:00pm
A modern pub situated on a residential estate. There are two rooms, each with a pool table and the bar serves both rooms. Full of entertainment as the venue has a pool table, darts and good music. Karaoke alternates Fridays and Saturdays. A lovely, welcoming crowd, so come and join the fun!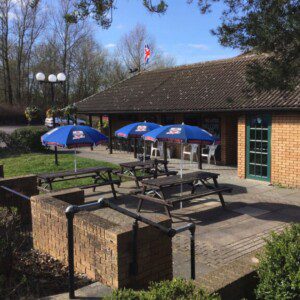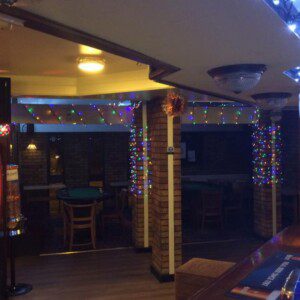 All Bar One
320 Midsummer Blvd, Milton Keynes, MK9 2EA

1.9 miles from Silva 26

Open Monday - Thursday 10:00am - 11:00pm Friday - Saturday 10:00am - 12:00am Sunday 10:00am - 10:00pm
Modern chain bar serving beer, cocktails, wine and sharing plates to an after-work crowd. All Bar One's ethic is to celebrate life and share food, drink and experiences. Perfect for your morning coffee to those Saturday night Espresso Martinis and everything else in between.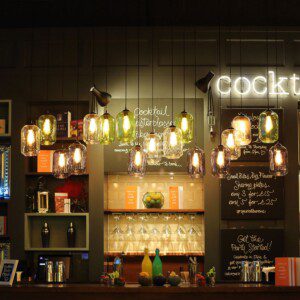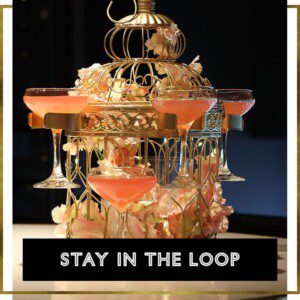 Giffard Park
Broadway Ave, Milton Keynes, MK14 5QN

1.8 miles from Silva 26

Open Monday - Thursday 9:00am - 10:00pm Friday - Saturday 9:00am - 11:00pm Sunday 9:00am - 10:00pm 
Buzzing bar-restaurant serving a varied menu including pub classics, burgers and sizzling skillets. Providing quality food at a fair price. They play a big role in the local community as they support fundraising events and offer their function area free of charge to locals and groups. Whether you're up for a party, watching sport, meeting with friends and family or just relaxing and taking the time to unwind, Giffard Park is the place for you.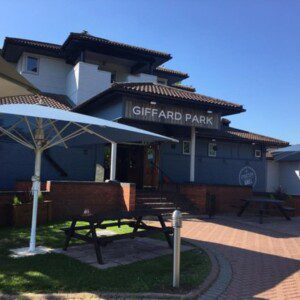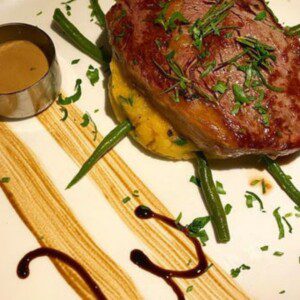 The Camphill Cafe 
Japonica Ln, Milton Keynes, MK15 9JY

2.2 miles from Silva 26

Open Monday - Friday 10:00am - 4:00pm
They prepare products grown and produced in their gardens and bakery to give you the freshest produce available. Between 12noon - 2:00pm you can grab their 'House Special', which incorporates the best of the season, accompanied by fresh beans with a range of homemade pate, dressings, dips and chutney, fine cheeses or eggs. Tuck in to a range of baked products both sweet and savory with a selection of hot and cold drinks throughout the day.