Apartment 22 at The Atrium is a beautiful executive apartment which is a perfect place to rest, retreat and explore from. The apartment is set in Milton Keynes in the Buckinghamshire region, with The Centre MK and HM Courts & Tribunals Service nearby.
The Central Milton Keynes shopping centre is minutes away; a regional shopping destination with over 190 stores, cafes and restaurants all under one roof. It also features over 200 stalls offering the opportunity to pick up a bargain. Milton Keynes bowl is also close by (5km) so there are vast opportunities to go exploring. 
When you enter the property you will immediately feel secure and at ease as our accommodation provides a position of contentment and security.
Our Best Stay Promise To You;
Great Communication - Quick, friendly, adaptable multi-channel.

Personal space and professional service - The team is there to support your stay in a fun and professional way.

Specifically designed eco-conscious decor and accommodation - For a sense of calm and freedom; a great place to retreat too, recharge and explore in the morning.

Great night's sleep - Using luxury organic spa products designed to improve sleep and invigorate the mind and body, you will have a great night's sleep.

Local knowledge and recommendations - Promoter of local produce, businesses and lifestyle to get a unique local experience.
The living, dining space and kitchenette are integrated giving a cosy feel to the apartment. There are comfortable spaces to dine, chill and unwind in. We incorporated natural tones within our decor to give a sense of well being and seclusion, and also allowing you to feel safe and secure whilst staying with us.
As mentioned in our 'Best Stay Promise To You', the inspiration behind our interior colour scheme is to bring you a sense of calm and freedom. This is incorporated through the mustard tones found in the bedroom and living room. Mustard is the colour of creativity, diversity and optimism. It conveys fresh energy to give you an uplifting feeling and is often associated with success and confidence. Another dominant colour found in this property is royal blue. This colour has positive effects on the mind and the body. It makes you feel at ease and helps exude feelings of tranquility. 
Each kitchen features a dishwasher, modern appliances, coffee machine and washing machine. Along with the stove, oven and kettle. The modern living area is perfect for unwinding and catching up on your favourite shows as the property features a large flat screen smart TV, Netflix and unlimited Wifi.
The property features X1 double bedroom with an extra large king size double bed (which can be made twin). There is a quiet and secluded high end shower room,  perfect to relax and soothe the mind and body.  Personal details are also added to the apartment to contribute to your good night's sleep.
Pets are also allowed at an additional charge.
There is dedicated parking directly outside the property for X2 - X3 cars. The nearest airport is Luton Airport (41km) and the property offers a paid airport shuttle service.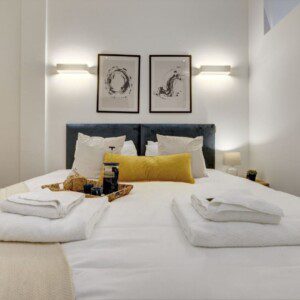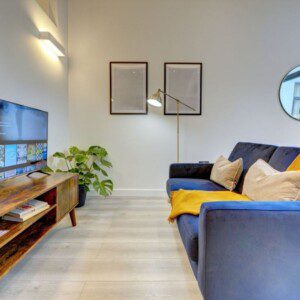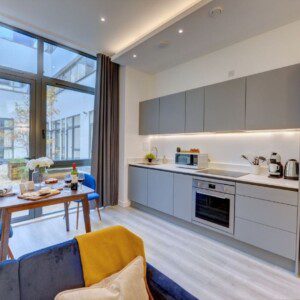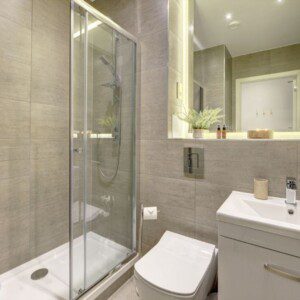 Located close to the centre of Milton Keynes, you won't go a day bored. Explore local businesses such as bars, restaurants and cafes to indulge in a sweet treat. We've listed a few favourites to choose from.
Midsummer Tap
2B Savory Crescent, Milton Keynes, MK9 3PU

1.8 miles from Silva 22

Open Tuesday - Thursday 10:00am - 11:00pm Friday 10:00am - 1:00am Saturday 10:00am - 2:00am Sunday 12:00pm - 11:00pm Monday 12:00pm - 11:00pm
Enjoy 2 for 1 cocktails and live entertainment. Perfect for sport lovers as live sport is at the heart of this bar. Seven days a week freshly prepared food is served as well as their famously handcrafted cocktails. Whether you're in the mood for a quick drink or a filling meal, Midsummer Tap has you covered. An unbeatable atmosphere to make fun memories with your friends.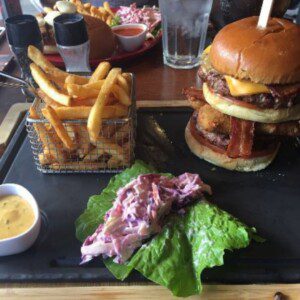 Revolution
602 Marlborough Gate, Milton Keynes, MK9 3XS

2.2 miles from Silva 22

Open Tuesday - Thursday 11:00am - 3:00am Friday 11am - 3:30am Saturday 11:00am - 4:00am Sunday - Monday 11:00am - 3:00am
Individually styled chain bar with a global menu of comfort food classics and nightly happy hours. Looking for a venue with delicious eats and premium spirits? Revolution is the place for you. It's a stylish bar with comfy seating and private areas. Upstairs in the clubroom music plays all night long and is fuelled by innovative cocktails, excellent spirits and bar snacks.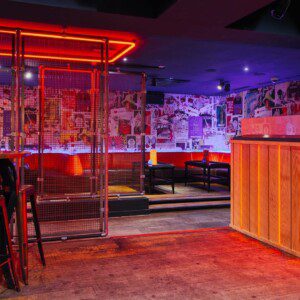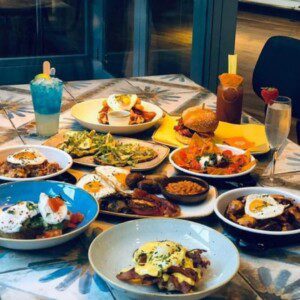 Brasserie Blanc
Chelsea House, 301 Avebury Blvd, Milton Keynes, MK9 2GA

2.1 miles from Silva 22

Open Monday 10:00am - 11:00pm Tuesday - Friday 10:00am - 11:00pm Saturday 9:00am - 11:00pm Sunday 10:00am - 10:00pm
Serving a classically French menu devised by celebrity chef Raymond Blanc, for upscale dining, ambience, choice and quality of cuisine you would struggle to find anywhere better. The Brasserie has comfortable seating perfect when gathering for a leisurely lunch or dinner. The food is sourced with care from some of the best producers and farmers in the country.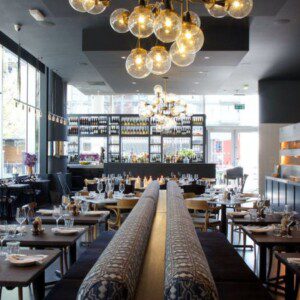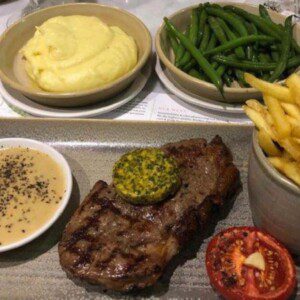 Bogota Coffee
4 Rillaton Walk, Milton Keynes, MK9 2FZ
2.6 miles from Silva 22
Open Monday - Friday 8:00am - 3:00pm Saturday - Sunday 9:00am - 3:00pm
Fresh quality coffee and a friendly service. What more could you ask for? Bogota sell coffee, pastries, cakes and many more delicious treats. They provide Speciality coffee, which is different to Commodity coffee which is produced in most coffee chains. It's grown and harvested by Artisan farmers using techniques passed down generations. This means the farmers know each detail about their land, water and processes, allowing them to grow their coffee at a consistently high standard.