Papillon, located close to Bedford town centre. The most beautiful interior. The fairy lights giving it a very festive feel, making you feel very cosy and overall in a better mood as who doesn't love the festive season?! They offer many different herbal teas, which is why I love the Papillon. After a long week, it feels good to indulge in a herbal tea! They have began offering gluten free roast dinners, which looks incredible and is amazing for those that stick to a gluten free diet! ​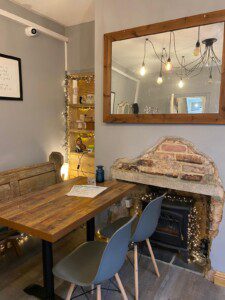 Me and my co-worker visited the Papillon the other day, I had a rocky road and an earl grey herbal tea. I highly recommend The Papillon to sit down and have a catch up with a friend, it's very spacious inside and they're big on sticking to covid rules! All you need to do is have a seat, then there is a QR code for you to scan on the table and you're able to order from your phone!
The staff in there are absolutely wonderful, so kind and friendly. They are also offering takeaway, which is brilliant! When staying in one of our properties, if you don't fancy going out to eat, why not pick up some food to takeaway from The Papillon and sit back and relax with some Netflix and treats?!
Reviews:​
Elise - 

By surprise we found Papillon Coffee House, food

was lovely, very good value for money. Will definitely visit

again. Lighting inside is beautiful. Keep up the great work.

​

Marlene 

- 

Lovely setting,,very relaxing.Gorgeous food and

beautiful coffee and such friendly helpful staff.

​

Dee

- 

my first visit today ...trying to visit places by

myself...this place is amazing even though I walked in just

as they were closing they still served me ..how wonderful

life is ...definitely come back here love it