Located in Beauvais Square, Shortstown is a beautiful, family orientated cafe called the Friendly Nettle. It's run by a husband and wife who have strong community values, so decided to open a cafe in the area they live in. Nothing beats that community feeling you get when bringing people together and that's what they strive for. They host various events such as crafts, book clubs and musical events to enable different people to connect. If you're new to the area and looking to meet new people and make new friends, the Friendly Nettle Cafe is the place to be. Even if you're not from Shortstown, don't be afraid to stop by and enjoy a warm and welcoming experience. Not to mention how delicious their food is!
The Friendly Nettle is all about supporting local businesses, which is why all their food is sourced as locally as possible. This enables them to serve a menu that is seasonal. Reducing waste is also a big goal of theirs, especially on single use plastic. This aligns with our values at Free Range Stays as we're eco-friendly.
Be sure to keep an eye out for any upcoming events at the cafe as there's some amazing ones you won't want to miss. They've previously had a Positive Affirmations With Clay Workshop, which focused on keeping people positive, energetic and creative. During this workshop, customers learnt how to make a crystal incense holder/ tea light and trinket dish and decorated either two clay hearts or coasters with their own positive affirmations. This is why at Free Range Stays we're big lovers of the Friendly Nettle Cafe because like us they care about peoples' well-being and strive to spread love amongst all. You can book onto any of their workshops that you may be interested in through their website which is attached below alongside an example of one of the beautiful makings at their Positive Affirmations Workshop.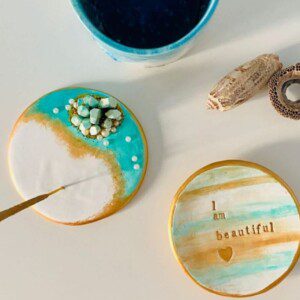 Now onto their delicious food! There's a separate breakfast and lunch menu to appeal to whatever you fancy. Their breakfast menu consists of a Full English, baguettes, avocado on toast and even something light for the younger kids. On the lunch menu are various paninis, toasties, sausage rolls and soup of the day. There's also vegan options available, so there's something for everyone. A personal favourite would have to be their pesto chicken panini. Believe me you won't want to miss out, give it a try.