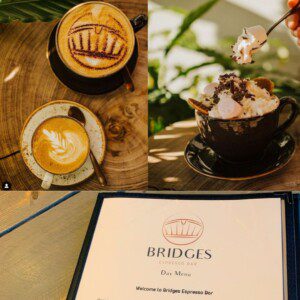 Do you wish you could find a coffee shop that just does everything? I know everyone loves a coffee or a cuppa with a slice of cake. However, wouldn't it be nice to go to a coffee shop with much more variety? Problem solved; Bridges Espresso Bar in Bedford, is a family run Espresso Bar offering quality locally sourced products and ingredients from across Bedfordshire and the surrounding counties.
Offering such variety serving breakfast, brunch, lunch and evening lite bites, there is something for every occasion any time of the day. There is also the opportunity for customers to purchase takeaway soft and hot drinks, grab and go lunches and the chance to purchase locally sourced produce they have on their menu.
Booking System; You are able to find their online booking system on their Facebook page and website. They recommend to book a table to avoid disappointment. Reservations are allocated In 2 hour time slots, however if you feel you would like the table longe than this, then just make them aware and they will accommodate this. They do keep tables for walk ins. So if you are on a morning stroll around Bedford with your loved one and fancy a coffee don't hesitate to walk in.
Breakfast and Brunch Favourites;
The English-Free-range Egg's Your Way, Bedfordshire Pork Sausage, Sweet Dry Cured Bacon, Grilled Thyme Tomato, Flat Mushroom, Baked Beans, Bubble & Squeak, Toast with the option to add Black Pudding.
Bridges Benedict – Toasted Sourdough, Cracked Pepper Hollandaise, Poached Free range Eggs w/ Chorizo, Feta and Chilli
Buttermilk Pancake Stack,- Blueberry & Elderflower Compote, Chantilly Cream, Meringue
Feeling hungry now? These mouthwatering meals are available at Bedfords restaurant and leisure quarter with a reputation of being a vibrant and exciting hub within the town centre. Whilst having brunch you are able to look over at the calming and majestic Great River Ouse.
Bridges are absolutely perfect for all occasions. Whether its an anniversary outing, a family lunch or quick coffee and a biscuit they offer everything for everyone. Furthermore it's not just sweet treats they supply, they have a range of alcoholic beverages ready to quench your thirst.
Reviews
"Hands down the best  brunch I have ever eaten. You HAVE to "check this place out"
"Best chocolate toothpaste I have ever had in my life"
"Lovely coffee, beautiful setting and excellent service. I have been a few times now for coffee and dinner. Great experience every time. sStaff are attentive and friendly. Nice menu with variety of choices